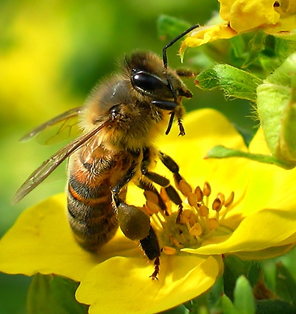 The world is a garden and people are bees. They live in separate bee hives that they call countries. Bee hives are all across the garden and the bees nourish on whatever provisions they can find in the garden. Oh yeah, the provisions of the garden are called natural resources. Some hives are more similar with others and have grouped together; some are totally different and stand alone. There are big hives and small ones, democratic and dictatorial, rich and poor, technologically advanced and not so much so. There are Christian, Moslem, Buddhist and non-religious hives.
The bees in the hives hustle and bustle day in and day out. Everyone's busy minding their own business according to their function in the swarm. There are blue-collar and white-collar bees. There are bees who gather and reap and bees who produce and manufacture. And then there are bees who work in the services sector and bees who protect the hive from hostile bees. A small number of elected bees run the swarm. They are called queen bees.
Only occasionally something happens on a greater scale that may interrupt the daily routine of the swarm. Something like a neighboring bee hive gets wiped out by a huge bird crashing right into it. Or an oil leak in the nearby pond. Or a burning bush in the further section of the garden. Those are the things that make the top headlines in the hive news, something that the journalist bees are after. Some bees get scattered and killed by a hurricane here, others get crushed and buried by an earthquake there. These bees didn't make it home through a massive bush fire over here, those have been stung dead by some separatist bees over there.
So, the bees break the news to one another in the hive, hum in agreement and then carry on with whatever it was they were doing at the moment … with what they always have been doing. Minding their own business and hoping the disaster won't strike again. For a brief moment the swarm starts humming a little louder and that's as far as it goes. Within minutes everything goes back to normal as if nothing happened.
My question is: Who's the gardener? And when he comes to harvest the honey, is he going to find any?