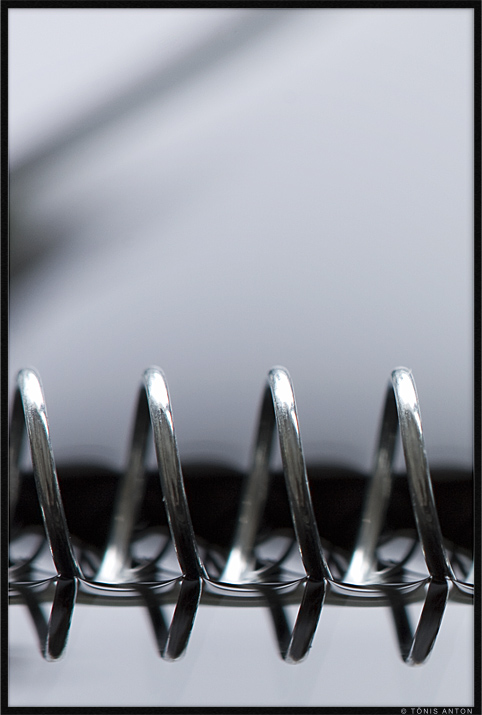 I bet it's not the kind of spring the title seemed to suggest :)
You're looking at a spring of a regular ballpoint pen as it is floating on the surface of water. Yes, it's floating! And no, it didn't sink. You see, it weighs so little that the surface tension of the water is well able to compensate the gravitational pull. As a matter of fact, as it was floating and stubbornly resumed to point at a certain direction every time I tried to turn it, I found out that this particular spring acted much like a compass needle pointing north. Magnetic? Sure. Why?
I thought you'd never ask :)
*   *   *   *   *
A rabbit trail
But why not? Why not make a pen that could also be used as a compass? It's clever. No harm done, right? On the other hand, why not build a cell phone that could also be used as a tracking device that everybody voluntarily carries these days? Why not build a web browser that monitors your online behavior on the daily basis and then feeds you the right kind of ads you never asked for? Why not add ingredients to your food that will make you crave for more? Why not make a window into your livingroom (and call it a TV) to make you feed on every unpure thing there is in the world which you'd otherwise be able to escape, and get a direct access to your mind on the subconscious level? Why not offer you a very good loan and then leash you for the next thirty years until you get old and useless? Why not take over your life and run it for you, keep you like cattle, decide where you go and when, what you eat and what you think? All that is left for you is the choice between the pubs and the nightclubs, the TV channels and the flavours of your frozen microwave food. And finally, why not push you to your limits with all this and haste you and rush you day in and day out like there's no tomorrow, at the expense of your own health 'cause, ya know, that's in and it's exactly what modern successful people are like – to keep you completely occupied with the choice between the presets of your life, lest you start thinking on your own, using your own reasoning, living your own life. Why not?! Since you're so generous as to freely let it happen. Or stupid.
The trick about life is how not to be tricked.
P.S. Why not use the post title "Spring is here" to hint at a nice-looking seasonal photo and get your expectation high, but then make you watch this twisted piece of metal instead, soon to be rusted in the tap water?
*   *   *   *   *
The kind of spring you were expecting to see here will have to wait for a couple of months.