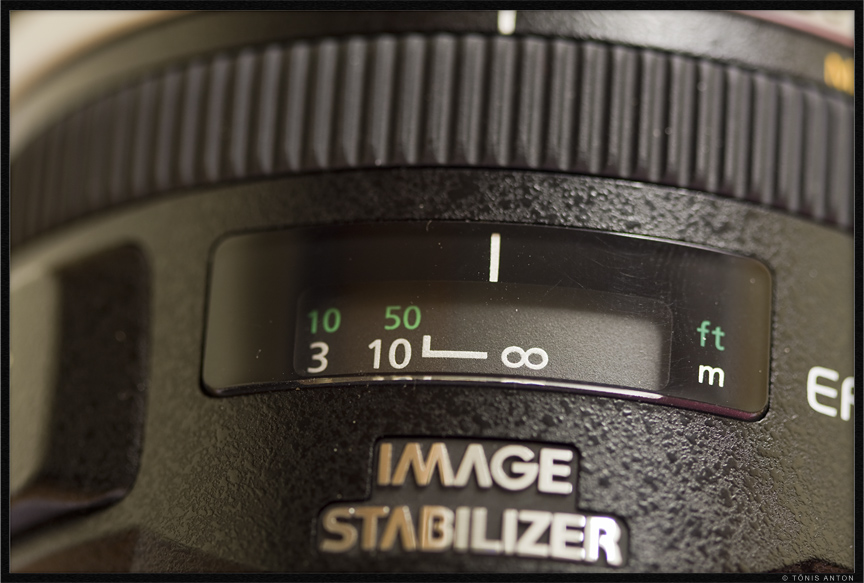 It's noteworthy that as a photographer I hardly ever have to set my lens to focus on infinity. But as a man, infinity should be my default objective at all times.
The following is a stretch of mind with a single intent; one that will be found near the end part of this article. You could say it's a Christmas message. Sort of. Even though I admit, in quite an unconventional form. Just the way you might need it.
* * *
Infinity of time is called eternity.
Infinity of space is when you travel at the speed of light in one direction for an eternity, but end up no closer to the boundary of space than when you first began the journey.
Right.
No. The above statement has two obvious flaws in it. First, it's impossible to end up in terms of eternity as it has no end (infinite duration). Secondly, there's no boundary in the concept of infinity to get closer to. The word infinity comes from the Latin infinitas or 'unboundedness'.
Thus, infinity is greater than our human perception, and so is eternity. In fact, it's because we humans are earthly and the world we live in is finite and temporal. So we have our limitations. The world's been designed with certain binding properties and each one of those limits us in a particular way. Among others, we're bound by time and space.
The whole known temporal material universe (having mass) is governed by and runs as a clockwork according to the law of gravity and the same is what binds us to the earth – our designated place of existence. If we were to escape the planet, we'd only be able to get as far as the amount of accumulated energy (rocket fuel) could take us … and then slowly drift no further.
The same way your room has three measures (length, width and height) we are confined within the 3-dimensional universe. How come? Mathematically there can be spaces with any number of dimensions and the theoretical formulas work just fine in defining 3D space as well as 4D, 6D and why not nD space (in maths n represents any number from -∞ to ∞). It's just that we have a hard time trying to imagine those. However, we're perfectly able to understand 2D (a sheet of paper, computer screen) or even 1D (a straight line, wire, cable). By adding lines one next to another we then form a 2D environment out of 1D. And by stacking sheets of paper on top of each other the 3D space will be formed out of 2D. That's a no-brainer.
The difference is in complexity. The more dimensions, the more options. An idealistic view of a 1D environment suggests that a spider on a washing line can only move back and forth along the line. In theory, two spiders wouldn't be able to go past one another on a washing line because it would take stepping aside for one of them, i.e. using the second dimension which is not available in 1D environment. Pretty limited world, huh? How about 2D? Actually, it's rather common in everyday life, is it not? Say, you drive your car. You can go forward or backward, left or right. But what you can't do is levitate above the ground and jump over all the other cars because using the 3rd dimension would be in violation of the traffic law and cars are not designed to move that way.  The extra dimension would grant you a whole new set of options and take the existence to an entirely new level of complexity.
Infinity can't be measured because it has no end. If you think further and try to remove the (binding) property of spacial measure altogether, you might get the infinity the way God is, i.e. omnipresent, not confined nor limited by space.
We're able to observe and understand what's happening on the 2D computer screen by means of the third dimension that we use to interact with it. Whereas, the virtual creatures "living" in that screen would have absolutely no idea that there's someone watching in close proximity and being able to monitor their every thought and action. They just don't have the necessary dimension to make that connection. This is the advantage of 3D over 2D. Now, considering the earlier stated fact that theoretically there can be spaces/environments with any number of dimensions, how about the possibility that somebody [read: God] in the 4D, 6D or nD is monitoring your every thought and action in our temporal 3D world the same way you're keeping an eye on the virtual realm of your 2D computer screen or a flat TV? I think it's happening right now.
But the very hairs of your head are all numbered. (Matthew 10:30)
And guess what. We're accountable.
For we must all appear before the judgment-seat of Christ; that every one may receive the things done in his body, according to what he hath done, whether good or bad. (2 Corinthians 5:10)
[*1 More on this …]
We live in a temporal world. We are born and then we die. The temporal world itself also has a beginning and an end. Let's illustrate. Have you ever seen a sound graph of a song on a computer screen? It looks something like this: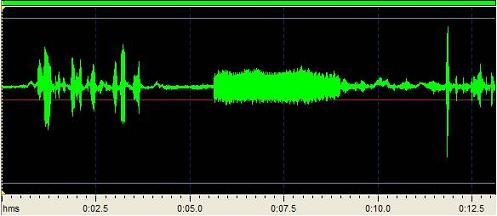 From left to right you have the progression of time, i.e. the way time "flows" in the timeline. The single vertical dimension represents the volume or the amplitude of the sound signal at any given point in time. Therefore, this graph represents the course of a 1D system through time. (Now, although it may look like a 2-dimensional graph, we have to exclude the horizontal scale from the count of dimensions here to get the right perspective because it represents the progression of time and is not a spatial measure.) [*2 More on this …]
It's easy to distinguish the different phases of the sound sequence by just looking at the graph. At first there are a number of pulses, then after a period of silence there will be a fairly steady continuous sound and there's going to be quite a loud crack near the end. And note that there is a beginning and an end.
A 2D sound graph would look something like this: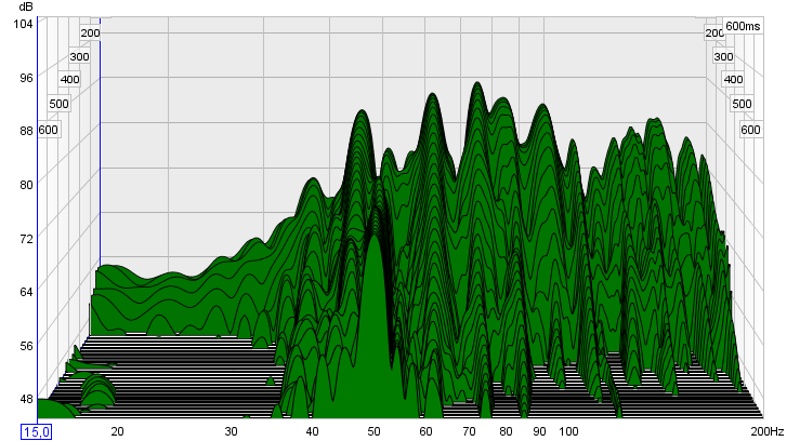 What's been added here is the depth of field, i.e. the extra dimension which allows us to add an infinite number of different sound sources (musical instruments) to this graph and monitor each one of them separately. In a similar way our 3D universe takes its course through time and each person leaves a signature behind for the "songwriter" to monitor.
[*3 More on this …]
Eternity is infinite time. Remove the property of time altogether and you might get timelessness, i.e. eternity the way God exists – was, is and will be, always, at all times, simultaneously. God is not limited by the flow of time. He created it! He's the "music master". He has the entire creation in front of Him the whole time just as you are looking at the entire scope of the above sound graph. By looking at the graph you know when and how the song is going to end before it gets there. God's prophetic word in the Bible is not mere speculation of the things that will happen but stating the situation as it is (will be for us when we reach that point in our timeline) from the beginning to the end. The Bible is clear that someday this cosmic song will be over. So, tune in before the last accord is played.
But the day of the Lord will come as a thief in the night; in which the heavens will pass away with a great noise, and the elements will melt with fervent heat, the earth also and the works that are therein will be burned up … Nevertheless we, according to his promise, look for new heavens and a new earth, in which dwelleth righteousness. (2 Peter 3:10,13)
[*4 More on this …]
Is it possible for a human being to break out from our temporal material 3D domain and move on to a higher plane of existence? You bet it is. I think every human being is to take that step one day. Through death. And most western people are going to be very surprised to discover that there actually is heaven and hell out there, hidden from our sight in this life, but nevertheless very real in the life to come. How do I know that? Well, considering the logic I've presented earlier it makes perfect sense. And more prominently, there's a book concerning the issues of this life and the life to come, and how to make that transformation successfully. It's called the Book of Books, the Bible, the Word of God. It's authentic from the Creator God and talks about the things unseen.
So, why are the western people the ones in particular that will be most caught by the surprise? I thought you'd never ask. Because it is mostly the modern western people who have ceased to believe in the spiritual whatsoever and deny the existence of anything outside their scientific scope which, since it is so limited, has narrowed their worldview down to the minimum of what's out there. It is the modern western secular mind only that has settled with the premise that everything ends once the coffin is closed, allowing the morality of man to free-fall. Most religions of the world are well rooted in acknowledging the eternal spiritual realm and promise to provide the access to the eternal bliss, each one in its own way. Now, while they are ALL WRONG with the EXCEPTION of ONE TRUE Gospel of the Lord Jesus Christ, the secular worldview of the Western Man seems perhaps the most pathetic and unreasonable of them all. I mean, why would anyone want to diminish the essence and the meaning of life to the point where only the most primitive bodily needs of Maslow's pyramid remain! It's scratching the surface instead of going deep! In fact, if you want to be made fun of, felt sorry for and laughed at, go tell about the things of the Bible publicly in a western culture, whereas no Muslim or Buddhist ever ridicules the topic (although they are totally mistaken in the specifics and Muslims will probably try to kill you).
The majority of the world's population believes in the spiritual, but it's the "advanced" western man only who happens to have developed a genuinely self-absorbed and deeply shallow worldview. You might argue that it's the advanced technology that has "saved" the modern man from the blind stupidity of the past generations. But I have a feeling that man used to be a lot more spiritually minded in the past millennia not because he himself had somehow developed religious views from scratch (the ones the western man is so eager to shake off) but because originally man started out walking with God having a true relationship with his Creator and has gradually lost touch with the spiritual domain as it has been substituted by the growing knowledge of the mechanics and principles and pleasures of this material world. The trend has become especially steep during the previous century which marks the beginning of the scientific era. Europe and America, the two dominant western continents that used to be quite religious up until the beginning of the 20th century, are now on the verge of losing the faith completely. Do you think the believers of the past generations (the greater part of the population) used to be a bunch of dim-wits? And today, in the non-western parts of the modern world, are all those people feeble-minded? Is that it? If it was so, what an enormous advantage the western continents would have over everybody else! Now that the sophisticated-superior sci-fi western popular culture has finally sorted it out that God is for the ignorant and for the simple-minded only, aren't we supposed to be enjoying our perfect lives in our perfect societies? Now that God is finally almost out of the way, shouldn't we be able to convince the rest of the world to join us in our quest of Utopia? At best. Wouldn't we be witnessing an improvement in our pursuit of temporal happiness? At least. To say nothing about having all existential questions still unanswered by our science.
It is evident, however, that the systems created by the worldly wisdom come crashing down. Just take a look around. Everything man has both on the inside and on the outside is in dire straits. To put it frankly, man's morality is taking a free-fall while the global economy finishes him off. The conventional family is being done away with. Entire countries go bankrupt one after another. Whole continents are struggling to escape the economic disaster. It seems the entire western world needs a bailout. Today it's the monstrous global economy that has all four corners of the democratic western world in its firm grip by the neck. And to feed this monster more and more consumption is required. That calls for even greater moral decay. Today the modern western man in general has become nothing but the slave of consumerism and devoted himself fully to serving worldly lusts and temporal pleasures. The formula of success says, "He who dies with the most toys, wins."
Take heed, and beware of covetousness: for a man's life consists not in the abundance of the things which he possesses. (Luke 12:15)
No man can serve two masters … (Matthew 6:24)
They have worshiped and served created things rather than the Creator (Romans 1:25). And so they're driven into their doom like cattle, totally off guard, not having the slightest idea of what lies ahead. Out of the blue. Is it happy ignorance or what?!
For it is written, I will destroy the wisdom of the wise, and will bring to nothing the understanding of the prudent. Where is the wise? where is the scribe? where is the disputer of this world? hath not God made foolish the wisdom of this world? For after that in the wisdom of God the world by wisdom knew not God, it pleased God by the foolishness of preaching to save them that believe. (1 Corinthians 1:19-21)
Since you've read this far, you might as well keep reading and discover the final few points of this article. What is Christmas really about? Namely, why Jesus Christ and the God of the Bible? Why not any of a number of world religions or spiritual practices? They all talk about the afterlife and promise to provide ways to get across safely, don't they? This is a good question and deserves a fair answer.
* * *
Now first of all, I kindly ask you to forget everything I explained about the parallel dimensions and nD environments. It's physics and maths mixed with philosophy and may work well in trying to describe this created world, but not the Creator. God is not a science project you can write your thesis on. It's not up to man to try to define Him by means of man-made sciences. However, it would be wise to take heed to what He Himself has declared about Him in His Word:
God is spirit … (John 4:24)
… God is light; in him there is no darkness at all. (1 John 1:5)
… God is love. This is how God showed his love among us: He sent his one and only Son into the world that we might live through him. (1 John 4:8-9)
The Lord is gracious and righteous; our God is full of compassion. (Psalms 116:5)
The Lord your God is a merciful God … (Deuteronomy 4:31)
God is not a man, that he should lie, nor a son of man, that he should change his mind. Does he speak and then not act? Does he promise and not fulfill? (Numbers 23:19)
Based on the above passages of the Scripture you can't miss the fact that God is a spirit and that He is a person with certain qualities characteristic to only a person. He is not some sort of force abiding somewhere out there that many people hope to dwell in or draw their force of life and goodness from. He is a Person, a Spirit and He has a distinct purpose with His creation. No man has ever seen Him, but we're given specific traits of His character that we human beings can easily relate to. God is righteous, gracious, merciful, compassionate. He is light and He is love. It doesn't say that he has light or that He has love. He is those things. And so we have those same qualities in and around us that we think are humane by nature but aren't originally. They are divine. God created man in His own image (Genesis 1:27) and so we get to share the qualities of his divine nature. Ever since the first sin and the fall of Adam the whole creation has been subjected to another master, the old Serpent, Satan, Lucifer, the Devil. He's a spirit, too. A very real one. A fallen spirit. He's void of God's nature. He's the result of the absence of light and love. There's no righteousness in him, no mercy. The Bible says he is a thief, a liar and a murderer (John 8:44, 10:9-10). And because of man's sin he now is the god of this world:
But if our gospel be hid, it is hid to them that are lost: In whom the god of this world hath blinded the minds of them which believe not, lest the light of the glorious gospel of Christ, who is the image of God, should shine unto them. (2 Corinthians 4:3-4)
So, again, why Jesus Christ? Why not Allah or Buddha or some other fancy spiritual practice such as New Age or any form of witchcraft or sorcery, spiritual therapists, fortune-tellers, astrology, you name it? They all seem to have a lot to say about the spiritual realm and the application of spiritual laws. You might argue that if what they say really works, then they must be true and why not settle with them and call it a day. But no! Those are all spiritual corruptions intentionally designed by the enemy in a way as to deceive as many as possible away from the truth. Some of their "wisdom" might even be efficient to a certain extent because they truly operate in the spiritual reality. And as the end times progress, the Bible warns us that the antichrist will have the power of Satan and will work signs and miracles.
[*5 More on this …]
I am convinced that if there is a spiritual doctrine, a practice or a religion that has been around for a while and has actual followers and believers, they all have their origin in the spiritual realm, i.e. they have a real contact with and thus operate in the spiritual domain. But make no mistake. They are on the wrong side! And when a man is faced with the undeniably real and obvious spiritual solutions that really-really work, and he doesn't know any better, an efficient deception has been plotted that will eventually claim his soul.
It is not the question of which religion or spiritual practice can apply the spiritual laws in a more efficient way! It is the question of who is the real AUTHOR behind those laws, who made it all happen and who owns the entire show. It is the question of AUTHORITY. Man is accountable before his Creator and no-one else. "No man can serve two masters …" (Matthew 6:24) "Thou shalt have no other gods before me." (Exodus 20:3) Evidently, since it is the first of the Ten Commandments, God does not tolerate idolatry. "For the Lord thy God is a consuming fire, even a jealous God." (Deuteronomy 4:24) God is righteous and He will restore His creation that was played into the hands of the Devil through trespassing God's direct command. On the day of the Lord God's order will be restored and all injustice will come to an end. The god of this world, Satan, will be wiped out together with his followers. Even the cursed earth will not be spared on the Judgment Day, only the souls of those who belong to Christ. But He will create a new heaven and a new earth (Isaiah 65:17). "God is not a man, that he should lie … Does he speak and then not act? Does he promise and not fulfill?" Man needs to straighten up and get right with his Creator while there is time!
So, why does God wait?

There's a good reason. He is merciful to give us time to come to repentance and receive the gift of life.
The Lord is not slow to fulfill his promise as some count slowness, but is patient toward you, not wishing that any should perish, but that all should reach repentance. (2 Peter 3:9)
Please note that it is the will of God that none perish and that all be saved. I think that includes you!
* * *
So, for the last time, why Christianity and Jesus Christ? What is the meaning of Christmas? Why not Buddhism or Islam or Hinduism or any other religion? Don't they all preach eternal bliss? Yes, they do, don't they? And whoever falls for them, is eternally doomed.
Here's a set of Bible passages to show you why and how Jesus is the only name by which man can be saved:
In the beginning was the Word, and the Word was with God, and the Word was God. He was with God in the beginning. Through him all things were made; without him nothing was made that has been made. (John 1:1-3)
When God started creating the world, He said, "Let there be light!" He spoke the words and the creation came to be. Through the Word of God the universe was created. The chapter of John goes on with the Word of God becoming flesh and coming into this world, i.e. the Word of God becoming the Son of man. He became flesh, was born of Mary and was named Jesus (Yeshua [in Hebrew] meaning 'God saves'). That's the essence of Christmas really.
He was in the world, and though the world was made through him, the world did not recognize him. He came to that which was his own, but his own did not receive him. Yet to all who received him, to those who believed in his name, he gave the right to become children of God— children born not of natural descent, nor of human decision or a husband's will, but born of God. The Word became flesh and made his dwelling among us. We have seen his glory, the glory of the One and Only, who came from the Father, full of grace and truth.  (John 1:10-14)
He [Christ] is the image of the invisible God, the firstborn over all creation. For by him all things were created: things in heaven and on earth, visible and invisible, whether thrones or powers or rulers or authorities; all things were created by him and for him. He is before all things, and in him all things hold together. (Colossians 1:15-17)
Neither is there salvation in any other: for there is none other name under heaven given among men, whereby we must be saved. (Acts 4:12)
As you see, it really is the question of authorship and authority. The passage of Colossians goes on with the supremacy of Christ:
And he [Christ] is the head of the body, the church; he is the beginning and the firstborn from among the dead, so that in everything he might have the supremacy. For God was pleased to have all his fullness dwell in him, and through him to reconcile to himself all things, whether things on earth or things in heaven, by making peace through his blood, shed on the cross. (Colossians 1:18-20)
And through His blood on the cross man can reach salvation. How? God's command concerning sin is clear:
For the wages of sin is death … (Romans 6:23)
Yes, that will ever be true. Since the law has to be fulfilled, the sinner has to die. All men have sinned (Romans 3:23). Clearly no one is justified before God by the law … (Galatians 3:11). But Christ gave us a new law, the command of love:
A new commandment I give unto you, That ye love one another; as I have loved you … (John 13:34)
How did Jesus love us? He took upon Him our sins and died for us paying the full price for them. This is God's heart, this is God's love, the ultimate sacrifice. God sent His only Son Jesus Christ to die for all.
Greater love hath no man than this, that a man lay down his life for his friends. (John 15:13)
This is how God showed his love among us: He sent his one and only Son into the world that we might live through him. (1 John 4:9)
For the wages of sin is death; but the gift of God is eternal life through Jesus Christ our Lord. (Romans 6:23)
For God so loved the world, that he gave his only Son, that whoever believes in him should not perish but have eternal life.  (John 3:16)
Man is entitled to live because another one died in his place. The wages of sin have been paid for. The law has been fulfilled. Justice is done. All man needs now is to believe it and receive it. Personally.
[*6 More on this …]
What is eternal life? Jesus says,
And this is eternal life, that they know you the only true God, and Jesus Christ whom you have sent. (John 17:3)
Man is not expected to pick from a variety of religions the one he thinks is right. Man is supposed to meet God himself and through repentance and the sacrifice of Christ get his personal relationship with Him restored here and now. Eternal life is the knowledge of God which results in walking with Him through eternity. It starts in this world and then simply goes on in the world to come. If it doesn't start here, it won't happen at all. Remember …
… the fearful, and unbelieving, and the abominable, and murderers, and whoremongers, and sorcerers, and idolaters, and all liars, shall have their part in the lake which burneth with fire and brimstone: which is the second death. (Revelation 21:1-8)
You may even believe that God exists somewhere out there and still not be saved:
Thou believest that there is one God; thou doest well: the devils also believe, and tremble. (James 2:19)
You may even go to church on Sundays like a lot of people do and know everything there is to know about the Bible and Jesus and still not be saved if you don't know Jesus himself, personally. This is especially true in the Christmas season when the churches are packed with people who have come to participate in their annual sermon on the Baby Jesus being born and Joseph and Mary by the manger and the three wise men. The emotional charge is all they ever care for and then they will leave without having partaken in anything really. Jesus takes it even further when He says,
Many will say to me in that day, Lord, Lord, have we not prophesied in thy name? and in thy name have cast out devils? and in thy name done many wonderful works? And then will I profess unto them, I never knew you: depart from me, ye that work iniquity. (Matthew 7:22,23)
"Wait a minute! I CAN'T be punished! I'm a western man and was raised up atheist and I DIDN'T KNOW about this stuff!" Well, you do now, don't you? Don't stop here. Seems like you've been presented a choice. This Christmas could be different for you. Note that God is not in punishing business, he is in love business.
For God so loved the world, that he gave his only Son, that whoever believes in him should not perish but have eternal life. For God sent not his Son into the world to condemn the world, but that the world through him may be saved. He that believeth on him, is not condemned: but he that believeth not, is condemned already, because he hath not believed in the name of the only-begotten Son of God. And this is the condemnation, that light is come into the world, and men have loved darkness rather than light, because their deeds were evil. (John 3:16-19)
And it shall come to pass, that whosoever shall call on the name of the Lord shall be saved. Acts 2:21
This is the nexus of the Gospel and the choice every man is to take. You can't just neglect it, you're either on this side or the other. "He that is not with me is against me.", Jesus said (Matthew 12:30). Not to choose means to choose the unbelieving side. However, if you choose to believe that Jesus is the Son of God who was sent by the Father to be born into this wicked world to pay for your sins and to die in your place, so that you might live and walk with Him as God raised Him up from the dead to be the firstborn of His children, and you turn to God to receive this free gift of life in prayer through faith, then this will be the first day of your new life.
Now, in closing, let me just ask this question. How on earth does one walk this path together with God on your side? ["on earth" is literal here] That is the core of TRUE Christianity. The Holy Word of God – Jesus, the written Word of God – the Bible will teach you through the Spirit of God in your heart. He says,
… I am with you always, even unto the end of the world. Amen. (Matthew 28:20)
With this insight on the precious gift of the eternal God, although we are temporarily bound by the temporal, we're graciously entitled to abound in the eternal. God's power is unlimited, His knowledge is unending, His presence is with us always and He never changes. Get to know Him! Pray now, mean it, believe it, receive the gift of life, and you'll be amazed. God bless your soul. Merry Christmas.
———————————————————————————————————————————————
* * *
*1 More on the Judgment Day:
And I saw a great white throne, and him that sat on it, from whose face the earth and the heaven fled away; and there was found no place for them.  And I saw the dead, small and great, stand before God; and the books were opened: and another book was opened, which is the book of life: and the dead were judged out of those things which were written in the books, according to their works.  And the sea gave up the dead which were in it; and death and hell delivered up the dead which were in them: and they were judged every man according to their works. And death and hell were cast into the lake of fire. This is the second death. And whosoever was not found written in the book of life was cast into the lake of fire. (Revelation 20:11-15)
* * *
*2 More on how to understand the 1D graph:
The 1st graph looks as 2D because it seems to have 2 dimensions. But it should be seen as 1D as it represents the value of one single variable at any given point in time. The value of this single signal can only move up or down on the vertical scale like a spider on a line. The horizontal scale just represents the recordings of the various states of that 1D system. In other words, it's a single line-shaped universe and its history shown as it progresses from left to right. This way I distinguish the only spatial dimension in this graph from the actual flow of time (which is not in human jurisdiction).
* * *
*3 More on how to understand the 2D graph:
Concerning the second graph, although it may look like 3D, it's actually 2D for the same reason of the horizontal scale being excluded from the count of dimensions as it isn't a spatial dimension but represents the progression of time.  In comparison with the previous graph an extra dimension has been added (the depth of field) and instead of a single line moving through time we have an infinite array of lines forming a 2D plane and its state being recorded at any given point in time. It's like a sheet-of-paper-like universe with an ever changing drawing on it progressing in time and its snapshots being recorded (like cinema really, only instead of the single frames being positioned next to each other as in case of a film roll they are subsequently placed one behind the other from left to right like a stack of cards).
In a similar way the 3D world (as we know it) would form a cube-shaped universe with its 3D snapshots subsequently progressing through time. Kind of like a 3D TV movie recording.
* * *
*4 More on the end of this world and the world to come:
For yourselves know perfectly that the day of the Lord so comes as a thief in the night. For when they shall say, Peace and safety; then sudden destruction comes on them, as travail on a woman with child; and they shall not escape. But you, brothers, are not in darkness, that that day should overtake you as a thief. You are all the children of light … (1 Thessalonians 5:2-5)
But in those days, after that tribulation, the sun shall be darkened, and the moon shall not give her light, and the stars of heaven shall fall, and the powers that are in heaven shall be shaken. And then shall they see the Son of man coming in the clouds with great power and glory.  And then shall he send his angels, and shall gather together his elect from the four winds, from the uttermost part of the earth to the uttermost part of heaven … Heaven and earth shall pass away: but my words shall not pass away.  But of that day and that hour knoweth no man, no, not the angels which are in heaven, neither the Son, but the Father.  Take ye heed, watch and pray: for ye know not when the time is. (Mark 13:24-33)
For, behold, I create new heavens and a new earth: and the former shall not be remembered, nor come into mind. (Isaiah 65:17)
And I saw a new heaven and a new earth: for the first heaven and the first earth were passed away; and there was no more sea.  And I John saw the holy city, new Jerusalem, coming down from God out of heaven, prepared as a bride adorned for her husband.  And I heard a great voice out of heaven saying, Behold, the tabernacle of God is with men, and he will dwell with them, and they shall be his people, and God himself shall be with them, and be their God.  And God shall wipe away all tears from their eyes; and there shall be no more death, neither sorrow, nor crying, neither shall there be any more pain: for the former things are passed away.  And he that sat upon the throne said, Behold, I make all things new. And he said unto me, Write: for these words are true and faithful.  And he said unto me, It is done. I am Alpha and Omega, the beginning and the end. I will give unto him that is athirst of the fountain of the water of life freely.  He that overcometh shall inherit all things; and I will be his God, and he shall be my son.  But the fearful, and unbelieving, and the abominable, and murderers, and whoremongers, and sorcerers, and idolaters, and all liars, shall have their part in the lake which burneth with fire and brimstone: which is the second death. (Revelation 21:1-8)
I find it quite remarkable that the fearful and unbelieving are on the same list with liars and murderers, don't you?
* * *
*5 More on the great deception of the end times:
Jesus answered: "Watch out that no one deceives you. For many will come in my name, claiming, 'I am the Messiah,' and will deceive many. You will hear of wars and rumors of wars, but see to it that you are not alarmed. Such things must happen, but the end is still to come. Nation will rise against nation, and kingdom against kingdom. There will be famines and earthquakes in various places. All these are the beginning of birth pains. (Matthew 24:4-8)
… and many false prophets will appear and deceive many people. Because of the increase of wickedness, the love of most will grow cold, but the one who stands firm to the end will be saved. And this gospel of the kingdom will be preached in the whole world as a testimony to all nations, and then the end will come. (verses 11-14)
For false messiahs and false prophets will appear and perform great signs and wonders to deceive, if possible, even the elect. (verse 24)
If even the elect of God are in danger of becoming deceived, then what chance do you think a regular modern western atheist has when confronted with a deception of such magnitude.
* * *
*6 More on being made righteous with God through the sacrifice of Christ:
The concept of sacrifice, one giving the life for the other, is consistent throughout the Scriptures. The very first "sacrifice" was made already in the Garden of Eden right after the first sin when God made coats of skins and clothed Adam and Eve to cover their nakedness. Where do you think God took those skins from? Somebody's life was at stake.
The Old Testament law, which came by Moses and was a set of rules and sacrifices of bulls and goats, was only good to temporarily purify the flesh. It was a foreshadow of the things to come. The blood of animals did not wash the sins away, just covered them up:
For the law having a shadow of good things to come, and not the very image of the things, can never with those sacrifices which they offered year by year continually make the comers thereunto perfect. For then would they not have ceased to be offered? because that the worshippers once purged should have had no more conscience of sins. But in those sacrifices there is a remembrance again made of sins every year. For it is not possible that the blood of bulls and of goats should take away sins. (Hebrews 10:1-4)
But Christ being come an high priest of good things to come, by a greater and more perfect tabernacle, not made with hands, that is to say, not of this building; Neither by the blood of goats and calves, but by his own blood he entered in once into the holy place, having obtained eternal redemption for us. For if the blood of bulls and of goats, and the ashes of an heifer sprinkling the unclean, sanctifieth to the purifying of the flesh: How much more shall the blood of Christ, who through the eternal Spirit offered himself without spot to God, purge your conscience from dead works to serve the living God? (Hebrews 9:11-14)
But now the righteousness of God without the law is manifested, being witnessed by the law and the prophets; Even the righteousness of God which is by faith of Jesus Christ unto all and upon all them that believe: for there is no difference: For all have sinned, and come short of the glory of God; Being justified freely by his grace through the redemption that is in Christ Jesus: Whom God hath set forth to be a propitiation through faith in his blood, to declare his righteousness for the remission of sins that are past, through the forbearance of God; To declare, I say, at this time his righteousness: that he might be just, and the justifier of him which believeth in Jesus. (Romans 3:21-26)