The following is deeply philosophical. You may want to click 'Back' on your browser now.
*   *   *   *   *
People and computers are quite similar. In a way. Computers do tasks much like we people do. Computers have an operating system (OS) such as Windows or Mac OS that determines their behavior. It's installed on the hard drive. We humans have our system saved in the mind, bit by bit as we make progress in our life. It's our mindset – the moral code that guides us, the tradition of the ancestors and the customs of the society we live in – our cultural background. And we have a will to determine how to apply these. This is our operating system.
The System
Did you know that you can have a computer without any operating system installed? This is exactly what you have when the thing first gets assembled on the production line. It's a box that seemingly doesn't do anything, except for possessing the ability to stand by and wait for the OS to be installed. It has the most fundamental functions stored in its BIOS (Basic Input/Output System), a chip that has the basic settings burnt into its crystals that make it capable of becoming a usable computer. Unless the OS is installed, the computer is good for nothing, although the potential to become a powerful tool is always there. Only after the OS has been installed, the computer "becomes aware" of what it is and allows running various user programs and applications (Office tools, internet browser, instant messaging, audio/video processing tools, printer software, etc.) that eventually determine the type of tool it will be and the use it will have. There are computers in clinics that monitor and control life support systems for little premature babies and there are computers that are used in military weaponry systems for missile guidance. Both of these are similar in their architecture but opposite in their purpose. One is used to sustain life, the other to end it.
In an odd way we humans, when we're first born into this world, are like those empty boxes with great potential. We have the same kind of most fundamental functions hardwired into our nervous system like the computer BIOS but there's no operating system just yet. Whether it's a coincidence or not but the Greek word bios also means 'Life' or 'Living' (biology – the study of life and living organisms). We breathe, we see things, we hear and make sounds, we feel, we eat and poop. This is our input/output system that allows us to interact with the world. And we have the potential to learn in order to acquire the system that makes us intelligent people capable of taking care of ourselves and solving various problems when we grow up. Being influenced by what we see and hear, feel and experience in our early days, we develop a mindset – our own unique operating system – and as we mature, we start running "user applications", the deeds we do on daily bases. We become a tool.
Viruses
Computer viruses are specially designed programs to detect any weak points of an OS and infect it using those weaknesses. They are the tools of some evil people to take over your machine and they can hook up with the OS quite easily. All it takes for an unprotected computer is to open a webpage that has the malware attached to it and there it goes. The next thing you know is that your computer starts behaving in a way it hasn't originally been designed to. This can create serious problems. The same can happen with people. We humans also have our weaknesses and the temptation is always there to test us. We are able to hook up with things that are bad for us. Some are more inclined and vulnerable to infection than others. Should we open the backdoor (for some people the front door), the "worm" walks right into our living room. Once those different pieces of "malware" start adding up, our entire system can be compromised. A flawed attitude can in time become a flawed character. It is unlikely for anybody to benefit from a subverted mindset of a man.
Now let's talk about the BIOS once more. It's the thing that is accountable for our very fundamental being, our inner man. The good news is that it's out of the reach of regular worms. However, it can be altered using special programs and running those programs always takes a planned action from a user to get the job done. There has to be a person behind this task who intentionally runs the BIOS update program to get the desired result. I believe this is what happened with the First Man, figuratively speaking. Allow me the parallel, please. The Master Worm (read: The Snake) came up with an update plan that was claimed to add some new features to man's present configuration – the knowledge of good and evil. So, after some lobbying Eve complied and so did Adam. The update seemed to work as promised! Their eyes were opened in a new way. But something else happened, too. The original BIOS version (Inner Man v. 1.0) got overwritten in the process and was replaced by the new version (Inner Man v. 1.1 beta) of an unknown origin. It featured death and was flawed. Since then the flaw has been reproduced over and over. But not forever. There was another critical update released by "the manufacturer" with the coming of the Second Adam, figuratively speaking (Inner Man v. 2.0). Its purpose was to remove all harm done by the uncertified version 1.1. This update, however, needs to be acknowledged by each and every OS to take effect. A lot of people don't know that and keep malfunctioning totally outdated.
Multiculti
Modern computers can have a number of different operating systems. There's Windows and Mac, Linux and DOS, etc. It is up to the user (read: technician) to decide what OS to have on a particular computer depending on how he wants the computer to act, what capabilities and functions he wants the computer to have. Eventually, the choice is made based on who is going to use the computer and for what purpose.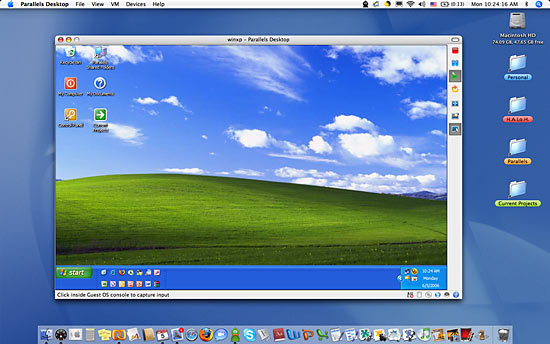 It's even possible to have multiple operating systems on one computer, but they can't run simultaneously. These are called multi-boot computers. The user decides which OS to run at start-up. Nowadays one OS can emulate the other e.g. a computer running Windows can run a program that makes it look and act like a Mac allowing it to run applications designed for Mac OS and vice versa. So you can never tell. Isn't that the same with our modern multicultural societies where all things get mixed up in all possible combinations? So you can never really tell which witch is which anymore. Confusing. Definitely. Not so much so for a trained eye, though.
User's Guide
When somebody purchases a new computer and opens the box, the first thing that usually gets thrown back into the box is the User's Guide. Soon it'll find its way into the nearest trash can. Nobody cares to read this thing. People want to acquire the skills of using their computer on their own. When they come across some new program that is claimed to be funny and amusing or promises to boost up their computer, they run it without having second thoughts. "It's exciting. Life's exciting. You need to try everything while you're at it. After all, the manufacturer notes are for dumb users, aren't they? Who needs them!" Well. A perfect ground for worms to start crawling. Suppose you do the same in your personal life. It's a disaster waiting to happen. Man also comes with the user's guide by the Manufacturer. It's a book. The Greek word for 'Book' is biblia.
You Should Read The Book.
Code
Computers run based on binary code. A sequence of ones and zeros is the heart of everything they do. The human sphere is no different. We also have codes. A number of them. In order to accomplish anything, a code needs to be followed. There's the Code of Conduct in military. If you break it, you're gonna be sorry. Universities have codes. Schools have codes. Social workers have the code of ethics. We should all have a code that we live by. It's a binary code. It determines the kind of tool we are – whether we do good or evil, whether we walk in light or darkness, whether we go to heaven or hell. There's a message on your taskbar from the above: "Critical updates are downloaded and ready for your computer. Do you want to install them?" You might want to click 'Save' and have your Inner Man restored.
*   *   *   *   *